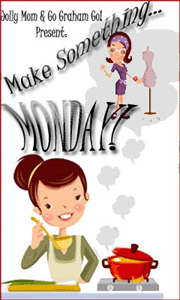 Apparently I should go into the mobile making business.
After my brother saw the mobile I made for my son, Matthew, he decided he needed one for his son, Xavier. This one is a little different though because the monkeys are made using foamy, paint and a sharpy marker. The rest of it is the same as Matthew's with the dowels wrapped with green and blue ribbons and gold cord. The whole thing is strung together with fishing wire.
Thanks to
Go Graham Go
and
Jolly Mom
for starting this wonderful meme!